Central SMT - The Early Years
Contributed by John Simpson, June 2003. John writes from Toronto:
As resident of Toronto, Canada for the past fifty-four years, I still have recollections of my many excursions on SMT buses prior to emigrating to Canada at the age of twelve. I was born and spent my early years in Lesmahagow, Lanarkshire, with my parents Alex and Cathie Simpson. My father Alex Simpson, affectionately referred to as "Sanny" Simpson by friends and acquaintances, was a driver for Central SMT and spent many years on the Lesmahagow to Douglas and Coalburn runs.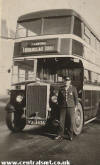 Sanny was hired by Central SMT Company Ltd., Clydesdale Garage, Bothwell Rd., Hamilton (Tel. Hamilton 518) on the 23rd of September 1928 and spent almost twenty years of uninterrupted service before leaving their employ on the 5th of March 1948 to emigrate to Canada. During these years he was a member of the Transport and General Workers Union, 10 Merry St., Motherwell. He affiliated with this union on the 5th of November 1932.
The Lesmahagow - Douglas run, Number 35, was initially serviced with a Leyland single-decker and eventually went to Leyland double-deckers. Two of the buses used were L35 (license number VD 4436) and L365 (DVD 223).
During the War years 1939 to 1945, night driving was made difficult owing to the fitting of slotted and shaded metal lens covers over the headlights to eliminate bright lights, as a blackout precaution in case of air attacks. Although not used on Lesmahagow runs, some buses were seen towing a unit to produce gas from waste to preserve fuel in these tight times. This, I now realize, was an early precursor to our present fuel-efficient propane operated vehicles.
The Lesmahagow operation was staffed with local residents. My father and Bob Dodds drove, and I unfortunately can only remember the name of my father's conductor, a lady called Kate Renwick. The bus was garaged overnight after the last run in rented garage space in the village of Lesmahagow.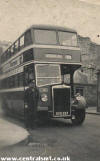 The Lesmhagow / Coalburn area was a centre of the coal mining industry and miners regularly used the SMT service to travel to and from work. Many miners had an avid interest in dog racing and they bred and trained whippets. The dogs were raced at White City and other tracks in the Glasgow and Hamilton areas. The SMT was the mode of transportation used to get miners and dogs to and from the races. Miners would pay a fare for the whippet and themselves. I often got a chuckle out of a story told by my father. In those days there was a rule that standing room was limited to five people. Miners having paid a fare for their dogs would sit them on the seat beside them. It was related that a conductor, whose name I unfortunately cannot remember, had passengers standing and asked a miner if he would move his dog from the seat and let a passenger sit. The miner objected, saying that he had paid a fare for the dog. The conductor quickly replied that he aware of that, but on his bus the dog would have to sit like any other paying passenger, with two of his feet on the floor. The situation was apparently resolved speedily.
In North America many jokes are made about road kill of animals. When I hear one I think back to the war years of strict rationing. Country road driving was hazardous at times to small animals that became transfixed by headlights at night and froze in their tracks in front of traffic. I remember one night that my father brought home a hare that had unfortunately come off second best to a run-in on Route 35. The victim was transposed to a delicious stew. I can only say that it was indeed good, and doesn't seem to have done me any harm judging by my present state of longevity.
On leaving Central SMT in 1948, Alex Simpson landed in Canada and resumed a happy and fruitful career in the transportation industry. He was employed by the Toronto Transit Commission, retiring in 1968. Although he never drove for the Transit Commission, he retired as a mechanic and engine re-builder, working on their units and the General Motor engines of affiliate Gray Coach Lines. He passed away on 22nd November 1983.
The website of Central SMT has brought back many happy memories to me and, who knows, perhaps a reader who worked for or used the SMT in earlier years will remember "Sanny" Simpson.