Single-Deckers : Dennis Dorchester

Central only took 15 examples of the Dennis Dorchester, all in 1983/84. These 15 divide nicely into three groups of five, each group representing one of the variants of the Alexander TE body : the TC (coach), the original TE (express) and Central's very own TS (service), which it specified in preference to the standard Alexander service bus of the time, the P-type.
The Dennis Dorchester was essentially a competitor to the Leyland Tiger in much the same way as the Seddon Pennine VII had challenged the Leopard. Once Central's Tiger orders had been switched to the Gardner engine option, no further Dorchesters would follow.
The five coaches are listed under the Coaches section. Here are the other ten :-
DD1-5
Chassis Dennis Dorchester SDA804
Built 1983
Bodywork Alexander TS B53F
1 A101RGE
2 A102RGE
3 A103RGE
4 A104RGE
5 A105RGE
DD6-10
Chassis Dennis Dorchester SDA806
Built 1984
Bodywork Alexander TE C49F
6 A106UYS
7 A107UYS
8 A108UYS
9 A109UYS
10 A110UYS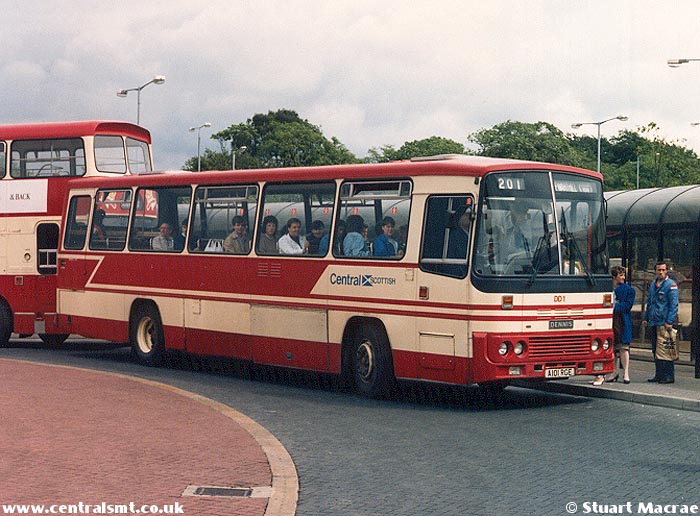 DD1 was a Dennis Dorchester with Alexander TS body, a TE variant devised especially for Central.