Double-Deckers : Leyland Atlantean

When Central SMT took over the business of Laurie, Hamilton in 1961, it acquired two of the earliest examples of the Leyland Atlantean in Scotland. Delivered to the independent in 1960 and 1961 respectively, these two buses had a massive 77-seat capacity. And although it might seem unremarkable now, the rear-engined layout with entrance doors on the front overhang was nothing short of revolutionary at the time.
Central operated its Atlanteans until 1969, but no orders resulted. In some ways, this is perhaps fortunate, for the Atlantean might so easily have halted - or at least stunted - the company's love affair with the magnificent Bristol Lodekka. But the Central attraction to simplicity and ruggedness won through, and by the mid-1970s it had rejected all three major models of the first generation of rear-engined double-deckers : the Leyland Atlantean, the Bristol VR and the Daimler Fleetline.
The Atlantean was just another example of a double-deck bus that simply failed to find favour with Central. Many years later, however, it would make a surprising comeback in the Kelvin Central fleet, with ex-Glasgow examples being transferred following purchase of the company by Strathclyde Buses Ltd.
HR1-2
Chassis Leyland PDR1/1
Built 1960/61
Bodywork MCCW H44/33F, highbridge, ex-Laurie, Hamilton in 1961
1 XVA444
2 60AVA
More Atlantean Photos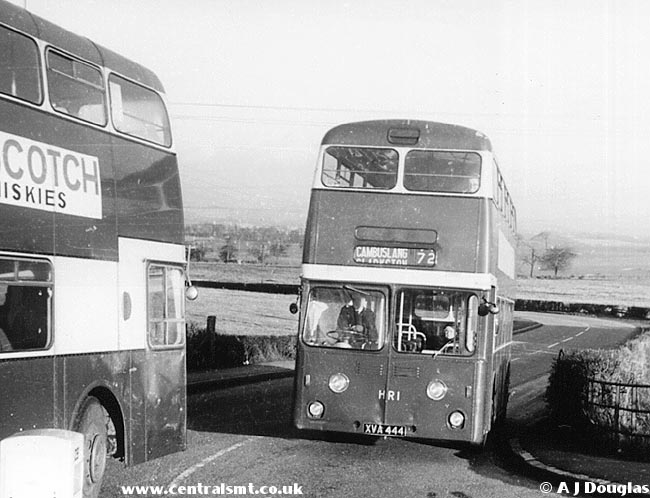 In this wonderfully evocative shot, HR1 and HR2 meet each other between Cathkin and Cambuslang. Photo by A J Douglas (ref 10917)